My New Year's Resolutions - Retrospective and 2022
December 31, 2021
At this day last year, I blogged about my resolutions and whether I followed through with them or not. Let's do the same thing this year.
2021 Retrospective
Let's see how my resolutions went:
I want to be able to look back on at least 25 blog posts.
👍 Yes, almost there. Including this one, I wrote 24 blog posts this year and I even made this dynamic statistics page to have a better overview of my blogging activities. I'll chalk this resolution up as a win for me.
My goal is to finish all previous Advent of Code events (2015-2019) this year.
👍 Yes, I did that as well! This actually means that in the last 13 months I solved all 350 Advent of Code puzzles!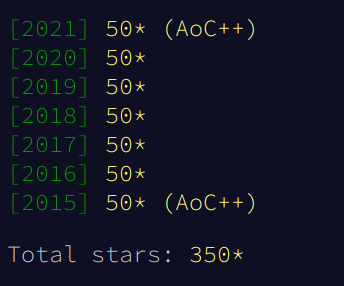 I even ranked second on our company leaderboard for the Advent of Code 2021 event.

Get back in shape.
(I added this resolution a bit later into the year when I painfully found out how bad in shape I was.)
👍 I also succeeded with this "bonus" resolution. I got back into running and lost about 15 kilograms (and still have not gained them back). This is actually the achievement I am most proud of since it really positively affected my life in may aspects.
Resolutions for 2022
For the next year, I also have my resolutions ready - however, they are rather unspectacular or not very original compared to last year.
Blogging - Again, I want to be able to look back on at least 25 blog posts at the end of 2022.

Fitness - I want to stay in shape, keep on running, and eating healthy.

Making - I want to work on more interesting DIY projects this year. At the end of 2022 I want to have a lest 5 cool projects to look back on.
Again, I'll set myself a reminder to do another retrospective blog post at the end of next year.
Happy New Year!
Thanks for reading so far and visiting my blog from time to time, dear follower. I wish you a happy and great new year!